Gender Equality
13.03.2023
Intersex runner Annet Negesa fighting for everyone's right to compete in sport
Members of the discussion:
Ugandan middle-distance runner Annet Negesa carried a heavy load in her heart for many years as she struggled with the aftermath of a surgery she felt forced into.

After being told World Athletics (previously IAAF) considered her testosterone levels too high, she was advised to have surgery – a gonadectomy to remove her internal testes.

It effectively ended her career, she lost all her income and she suffered enduring physical and mental pain.

But from the darkness, she has found hope — by using her voice to ensure no other woman endures what she went through.
Every moment I speak about it I feel like my heart is more relaxed,
she told ABC Sport.
There are also other young female athletes … [who] fear talking about what they're going through now. They're facing many challenges in their lives.
So when they hear any word from me, when they hear my story, they also feel strong.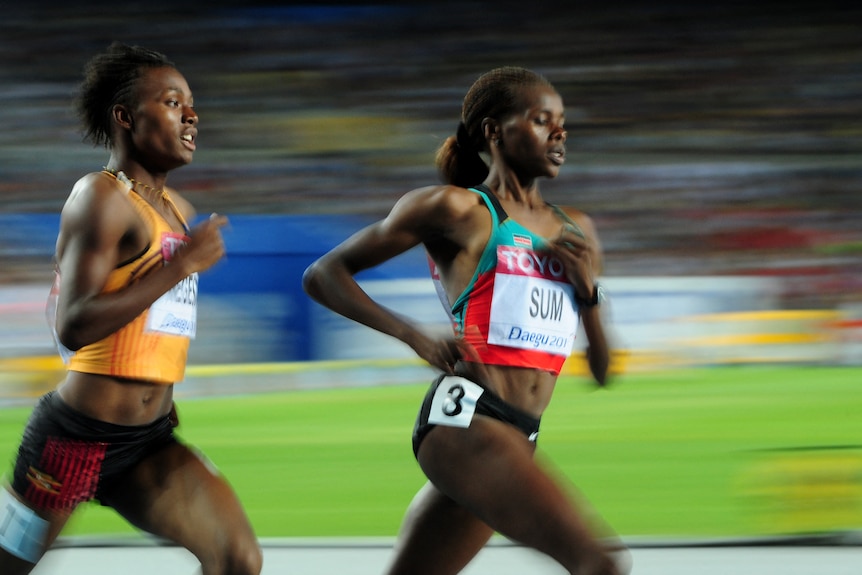 Negesa (left) made it to the semifinals of the women's 800m at the 2011 IAAF World Championships. (AFP: Mark Ralston)
The 30-year-old shared her story at the Sydney WorldPride Human Rights Conference.

In 2012 she was a rising star in Ugandan athletics across 800m and 1,500m.

She was preparing to compete at the London Olympics when she received a phone call from her international manager explaining her Olympic dream was over due to blood tests revealing her naturally high testosterone levels.

Negesa became subject to the IAAF's hyperandrogenism rules, which stated female athletes must have testosterone below the male range.
[Sport] was something which I've given too much time and focus and I've done everything to reach that level. So my heart was down,
she said.
Negesa was 20 at the time and had little understanding of what was happening.

She is a cisgender woman, assigned female at birth and raised as a girl.

After her blood test results, she was sent to Nice, France, for medical examinations, then had surgery in Kampala, Uganda.

Negesa has publicly stated medical staff linked to the IAAF advised her to have surgery, something the governing body denies.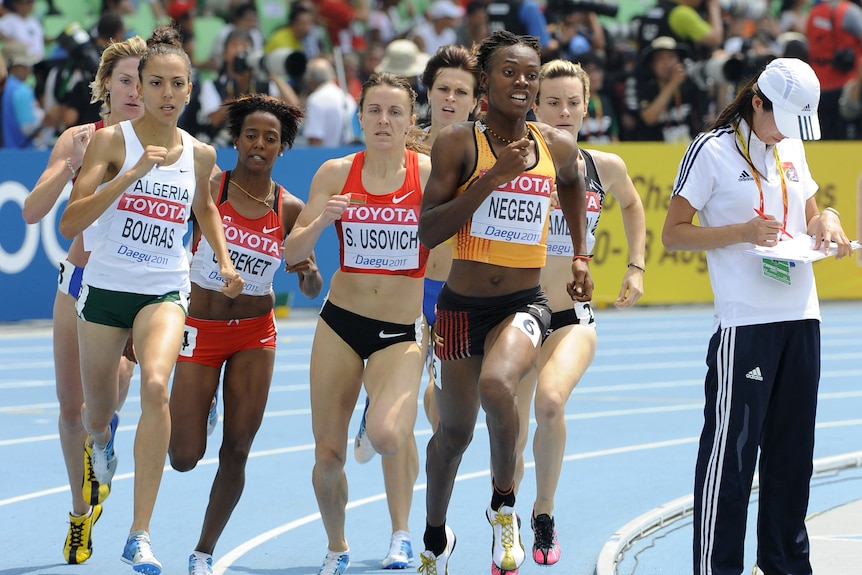 Negesa competes in the heats of the 800 metres at the 2011 IAAF World Championships.(AFP: Jung Yeon-Je)
Ultimately, she didn't understand the scale of the procedure.
They told me there is no danger, they told me, 'In just a few weeks you will go back to your career,'
Negesa said.
She suffered joint pain afterwards and didn't know she needed estrogen therapy.
I was no longer a person who has importance to anyone,
she said.
At her lowest point, Negesa considered suicide, but she emerged from that period, determined to fight on.
My heart inside was telling me you can survive, you can stay,
she said.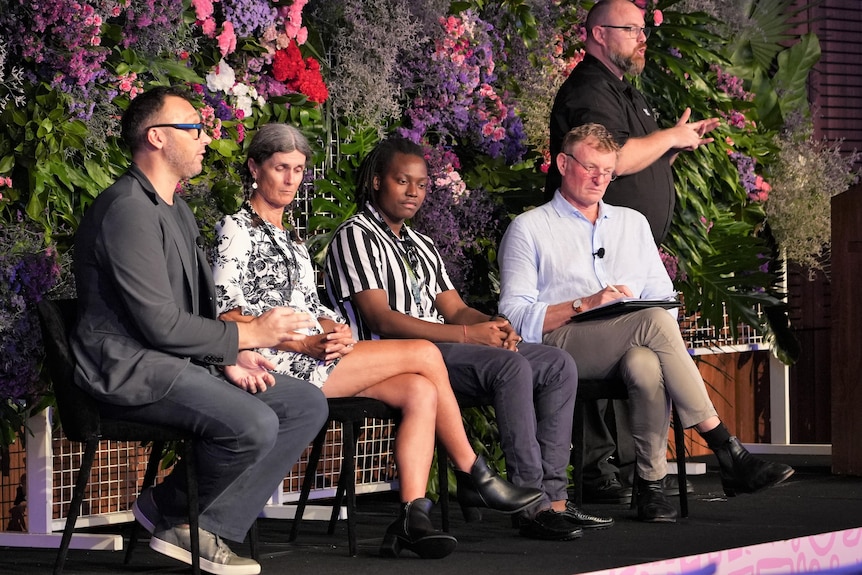 Negesa was part of a panel discussing sport at the Sydney WorldPride Human Rights Conference. (ABC Sport: Amanda Shalala)
Payoshni Mitra, the CEO of the Global Observatory for Gender Equality & Sport, campaigns for the abolition of sex-testing policies in sport.
All these regulations, they're causing human rights violations in sport, one of the worst kinds,
Dr Mitra told the conference.
Athletes are asked to undergo surgeries without informed consent, causing them harm of several forms which affects them for their entire life.
In spite of the fact that sport is autonomous, national governments must come forward and, as civil society, we must keep that pressure on that sport,
Dr Mitra said.
An athlete is a human first and something that is still not well considered in sport. Human-rights principles should be very much part of a sporting framework.
World Athletics has previously stated it does not need to recognise human rights.
The IAAF is not a public authority, exercising state powers, but rather a private body exercising private contractual powers,
a 2019 briefing note said.
Therefore, it is not subject to human rights instruments such as the Universal Declaration of Human Rights or the European Convention on Human Rights.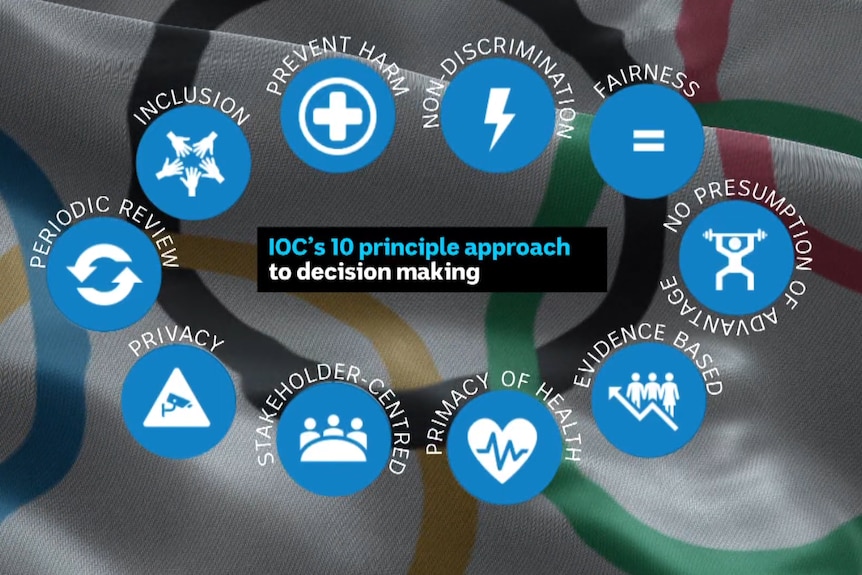 In 2021 the IOC released its Framework on Fairness, Inclusion and Non-discrimination on the basis of gender identity and sex variations.(IOC/ABC News)
Why are women who have high levels of testosterone asked about whether they have an advantage, whereas no questions are asked about levels of testosterone in male athletes?
Dr Mitra asked.
The important thing is the IOC has changed that language, but the international federations are yet to implement it. And we have seen a backlash from many of these institutions.
Negesa successfully sought asylum in Germany in 2019 due to discrimination against LGBTQIA+ people in Uganda.
My life has changed,
she said.
I feel happy because before that I was living in a life of denial, being isolated.
Now I'm in a community where I'm free, my life is OK now.
But she is still searching for closure.
I would like justice for myself because it's something that totally destroyed everything in my life,
Negesa said.
Let sport be free, give everybody a right to do sport because we are all humans.
Since moving to Germany, she has started running again, and her Olympic dream that was crushed 11 years ago has been revived.
It's not buried. I told my coach I would like to do a 10 kilometre, do a marathon,
she said.
I still feel the dream is there.